Have you noticed recently that most of the digital artists are working with digital drawing tablets, which looks something serious but cool? Does the best digital drawing tablet offer more working facility comparison to old style mouse, pad, and screen? Well, not really, but a graphics tablet or drawing table gives you a wide platform to freely move your hand to make a better drawing. So, it's a convenient a faster option to draw your imagination.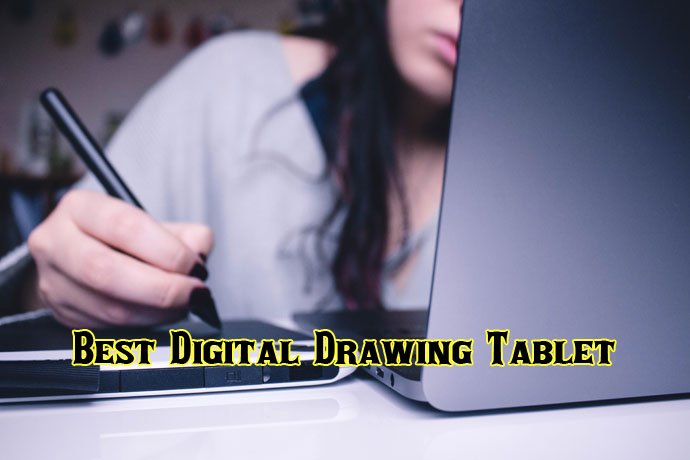 Imagine making a curve in freestyle on the piece of paper and then making it on your computer screen. The second one takes more moment than the first one. A drawing tablet gives you facility something between paper+pen and mouse+monitor. You can work on that more freely and enhance the artwork with more color, effects, and style.
Comparison of 5 Best Digital Drawing Tablets for the Money
10 Best Digital Drawing Tablet Reviews of 2018
Want to buy the best drawing tablet for your artworks? We researched on some popular best tablet for artists from different work level and final these 10 given below. Check them out.
Our first best digital drawing tablet reviews are for Huion H610 Pro graphic Drawing tablet. This a 10×6.25 inches surfaced tablet offers a large platform and better sensitivity to draw your imagination. The dimension of the tablet is 16.3×9.8×1.7 and weighs 2.85 pounds.
It features a pen with 8192 pressures sensitivity which accumulated every stroke of your hand precisely. The tablet also offers eight user-defined shortcuts so you can set up your favorite settings of drawing and use them whenever you need to. You can use this best cheap drawing tablet with your windows 7 or later version and mac OS 10.11 or later and other mainstream digital software.
Check: Best CSGO Mouse Collections
Pros
The service is, and pressure level is good at working.
The PDF instruction is pretty helpful and straightforward.
Different user-defined shortcuts to set up your favorite
The sufficient working area to work on the different scale of projects.
Budget friendly too. 
Cons
Does not work well in Linux.
The buttons are very sensitive; you need to tackle them carefully.
Need laptop/pc monitor to see the scratches. 
The XP-Pen Artist 15.6 is an actual digital tablet that any pro artist will appreciate. It allows you to sketch directly on the tablet screen with the natural flow of your drawing. The tablet comes with two passive pens which are 8192 levels of instant pen pressure sensitivity. They offer excellent control and fluidity to expand your work level and make a unique piece of artworks.
This best tablet for adobe illustrator is 11 mm thin, has 15.6" screen, 1920×1080 IPS, brightness, color settings, brush, eraser and many useful features.
Pros
The drive supports 4K display.
Many tools for detail drawing and effects.
Very sleek design easy to handle.
Works with Windows 7.8.10, Mac 10.8 and later on OS system.
Usable with Photoshop, Illustrator, Painter, Clip Studio and other major graphics software. 
Cons
It's an expensive drawing tablet.
The color does not much match precisely with the laptop color.
The drive takes time to install. 
Here is a best budget drawing tablet which offers so many things in a single screen. The Samsung galaxy tab SM P580BZKAXAR is a high-end option who are learning digital drawing or want to begin as an amateur artist. It comes with an S Pen that can draw, animated GIF, edit or select image to publish. Basically it a tablet like other tablets for work, gaming, watching videos. But the painting facility of it is outstanding, that is why we include it in our list as a best digital drawing tablet.
It comes with 3 GB RAM, 16 GB ROM, front and rare camera, memory slot and long-lasting battery. Once charged fully it can work for 14 hrs.
Pros
Beautiful full HD screen which more magnificent color and lighting.
Fast RAM to run multiple apps.
Larger display to work in landscape or portrait mode.
Fast performance and decent storage (extendable up to 256 GB). 
Cons
The S pen is bit small.
Not enough tablet optimizer apps.
If you need a tab for light sketching projects, hobby, etc. then the Apple iPad Pro will be a great choice. This iPad offers multiple optional features for great display/graphic, faster work, connectivity and all but can't be an alternative for laptops. However, you can use its an efficient drawing platform. Thus it offers fast working or sketching benefits with different software like Photoshop, illustrator etc.
This best drawing tablet for beginners has 2732×2048 resolution with its 12.9" Retina display. It runs with iOS9, has a dual-core A9X chip with quad-core graphics. Moreover, it has 128 GB of storage, eight-megapixel iSights camera, four-speaker audio and WiFi-Bluetooth+Cellular connectivity.
Pros
Bright and crisp bleeding edge display.
Suitable to use with heavy apps and software for drawing, browsing, and gaming.
Work smoother on drawing, editing, etc.
Fast Wi-Fi and Bluetooth, cellular modem connection.
Reasonable pricing. 
Cons
Average battery life.
Slightly heavy. 
XP-Pen Deco 01 10×6.25 Inch Digital Graphics Drawing Tablet
The XP-pen Deco 01 is a great drawing tablet for every level of digital artist. It a simple but well performative tablet for left or a right handed person. The tab does not come with any direct display you have to connect it with your monitor to see the result you are creating. However, it has new passive pen design with a pn03 pan. This pan provides 8192 level of instant pen pressure sensitivity that gives you excellent control.
The best tablet for artists has 10×6.23-inch working space to create your work. Also, the tab is 8 mm thick and very much portable.
Recommended: Best Cheap Gaming Headphone
Pros
Comes with a glove, pan stand. Eight pen nibs and USB cable.
The sensitivity is adjustable and highly precise.
Works with multiple art software and app perfectly.
The outer corners glow, which useful when working in the dark.
Very light and sleek design. 
Cons
The placement of the button on the pen should be better.
No spare pan for an emergency. 
Wacom is a trusted name among digital drawing pads that is why we tried the Wacom Intuos Pro digital graphics drawing tablet for Mac and PC. This more has a pen with 8192 level of pressure sensitivity. Its response is well when you are sketching or using brush strokes.
Its a 13.2 by 8.5 Inch compact size tablet with 8.7 inches by 5.8 inches active screen. The area is a medium for work but still good. It also offers customizable express keys, radial menus, display toggle and so on. The tab runs with Windows 7 or later on version, and for mac, it's the 10.10 and later on versions.
Pros
The buttons are capacitive.
Touch has excellent palm rejection.
Its light and aesthetically beautiful.
The Bluetooth works good and never dropped and not have any noticeable lag.
The pen stand is great too. 
Cons
The surface sheet is rough.
Touch does not work correctly for many programs. 
If you want a versatile device that can draw, work and entertain you, then Microsoft Surface Pro 4 is an ideal option to consider. Those who are fond of the Windows operating system with love to have this 6th Gen Intel Core i7 processor. It powerful, durable and runs for a long time without getting so hot. You can use it as a laptop too. All you need is for the multi-position kickstand and keyboard.
The tab runs with windows 10 pro operating system. This best graphics tablet for beginners 12.3" PixelSence screen with very high contrast but lower glacier. It works fast gives proper color and lighting but does not strain your eyes. That means you can draw with it comfortably for many hours.
Pros
The battery life of this tab is really good.
Usable as a laptop also.
Options for 8 GB and 256GB.
Elegant design, easy to carry.
The processor is very fast and well responsive during work.
The pen is sensitive enough to work well. 
Cons
Lack of apps.
It has some bugs also. 
The Huion KAMVAS GT-191 Drawing Tablet offers all the features one can look into a digital drawing tab. It has a Gt- 191 interactive display with 19.5" IPS LCD. The resolution of the display is 1920×1080. This prominent display also offers NTSC 72% color gamut and 3000:1 contrast ration. These make the color more bright, and viewing is all angle.
The dimension of the talent is 18.7×11.7×1.4", and weight is 13 lbs. This best drawing tablet with screen comes with an adjusting stand, two pens, a glass protector and other additional accessories. Overall, its a well responsive, high-quality drawing pad for beginner to professionals.
Pros
Large LCD screen with 1920×1080 HD resolution.
Comes with extra pen, gloves etc.
Light but sturdy construction.
Better response on multiple touching clicking.
Comes with 20-80 degree adjustable stand. 
Cons
The screen protection is nothing high.
The colors matching of monitor and tab differ slightly. 
If you want to have a complete digital tablet for drawing, then Ugee 1910V is the perfect solution for you. It's an LCD screen with pen, buttons and high sensitivity control to your digital arts. The display resolution of the tab is 1440×900 and has 2048 levels of pressure sensitivity. Moreover, the dimension of the tablet is 21×18.5×7 inches, and the display area is 402mmx255 mm.
It comes with a lot of accessories like a pen, drawing gloves, screen protector, nibs, pen changing line, USB cable, pen holder, etc.
Pros
Allow direct sketch, paint, design, and edit on the screen.
Offers large active are for working.
Compatible with XP, Vista, 7, 8, and 10 Windows and MAC OC.
Work on Adobe Illustrator, Photoshop, Corel Painter, Autodesk Sketchbook/MAYA, ZBrush software.
Comes with drawing gloves too.
Cons
The color is bitten off from the PC monitor.
The hard drive of it does not support compatible of most type of laptop. You have to buy a separate adaptor for it. 
Last but definitely not least, the Wacom DTHW1320M is an exceptional option for digital drawing tablet. It offers mobile studio pro, high build quality, compact size screen And the latest version of the software for scratching. The dimension of the model is 14.4 x 9 x .7 inches, and weight is 3.13. It comes with so many powerful creative tools that will entirely change your experience on digital drawing. It offers 4x higher pen accuracy, accurate pressure sensitivity, power configuration, can create 2D, 3D, and CAD software.
This best tablet for adobe illustrator also offers high-resolution display-2560×1440 with 96% Adobe RGB color performance. It's a pro-level digital tablet that provides a complete range of features and customizable express keys and multi-touch control. Overall definitely worth to try option for any professional artist.
Pros
Ideal for any 2D, 3D, and CAD application.
Comes with Wacom Pro pen two which gives the most precise and realistic performance.
The etched glass surface has the correct amount of resistance to give the same feeling of pan and paper.
Time-saving productivity with the multi-touch surface, customizable express key, and radial menus. 
Cons
Expensive product.
The locking and unlocking system feels tight. 
What is the Digital Drawing Tablet?
A digital drawing tablet is also known as a pen tablet, digitizer etc. its a hardware input device that transfer stylus or mouse movements to the screen. The tablet has a hard plastic touch-sensitive drawing pad where you need to work with a special pen/stylus. The drawing experience with a digital pad is more comfortable compared to mouse and keyboard but less from pen/pencil and paper.
The drawing tablet is popular among digital artist who is related to making cartoon, film, gif and other graphics related work. Many non-artist people also like to work on a drawing tablet to draw their imagination and passion.
However, its take a while to learn curve, strokes etc. on a drawing tablet. Once you know how to use and work with a tab its more fun to work with.
Why Do You Need a Digital Drawing Tablet?
A digital drawing tablet offers a more natural way to draw, paint, and edit work. It gives you the feel as pen and paper drawing but in visual ways. If you are a digital artist, illustrator or your work is related to image retouching, graphics then yes, you should get a digital drawing tablet. You are absolutely perfect if you want to stick with old pc, laptop and mouse, after all, you have been drawing or making cool animations using all of these until now.
How to Choose the Best Digital Drawing Tablet
From the reviews now you know drawing tablets are in two kind- Indirect and direct tablets. The indirect one where the display is absent, and the direct one has a full display as drawing platform where you can saw immediately what is happening. So, the selecting process is different for this kind. Here are some facts to understand before going to buy a quality digital drawing tablet from this two kind.
Size- Going for a large size of drawing tablet is always best. Check the dimensions of your tablet's active space area first. Even if it feels heavy or need extra bucks to pay off, get the large size of screen drawing pad at your best budget range.
Screen resolution- For direct drawing tablets, higher screen resolution gives better performance. its need for artwork, so it has to be vivid and pleasant. So, choose a model that offers maximum resolution and better color similarity with the laptops.
Compatibility- The current model of digital drawing pad/tab, is most compatible with the latest Adobe/illustrator version and popular operating system. Some best android tablet for drawings gives vast versatility on different apps and software that helpful at your work. Make sure your new model is compatible with your working tools 100%.
Sensitivity- Sensitivity allows more specific work. As a beginner you may try models below 8192 pressure sensitivity pens, these are affordable as well. But for professionals, you need high sensitivity pen with better touch cooling pad.
Price- Drawing tabs are expensive and the range will start 300 to 2000 dollars for direct screen drawing tabs. If you have a tight budget, you have the plan-B, an indirect tab. Mostly they start with 50 to 1000 dollars. We will suggest investing in a high-quality tab as much as you can afford it. However, don't forget to count some additional accessories for your tabs like stand, pen, keyboard, USB port, carrying case etc. you might not serve with each and every essential thing with a tablet.
Tips on Using Drawing Tablet
If you are a first time user, you should be careful with your new drawing tablet. Follow these tips given below to use the table correctly. Like,
Pen switches are for additional clicks, scroll etc. you can customize the button you want to. But you can do these work by merely put on the nib on your screen- the tip of the nib is a click.
Align your tablet with your display. Keep the tab in a parallel position with the display represent the corresponding corner of your actual display area and help to work in proper measurement and faster.
Don't be afraid of your tablet. It's designed to work helping an input device- the pen or stylus. When the pan is in half an inch of your tab other touch or contact of hand, finger etc. are ignored by the screen. So you can freely draw or write on it as you draw with pen and paper.
Try all the features, formate and tools of your drawing pad it offers in a small project/sketch. You will understand more the behavior of your new tool. It will help you to utilize them later on your actual work. Also, check out how the tab work with different monitor, mouse, additional accessories give with it. The more you understand it, the more you learn how to work with it better.
Final Words
So our editor choice for best digital drawing tablet is for XP-Pen Artist15.6 15.6 Inch IPS Drawing Monitor Pen Display Graphics Digital Monitor with Battery-free Passive Stylus. It offers a more active space to work with; also it's relatively light, provides high resolution with many useful features that will surely love to utilize during work. If you want to invest in something good quality, this is the one. Also, it would suggest it for beginners especially and the tablet will support them in the future at their professional grade works.