Car owners understand better that the best floor jack is one of the must-have tools in their garage. It is not related either you are a professional driver or not. If you need to change tires in during the drive or check the breaks, you have to buy a quality floor jack.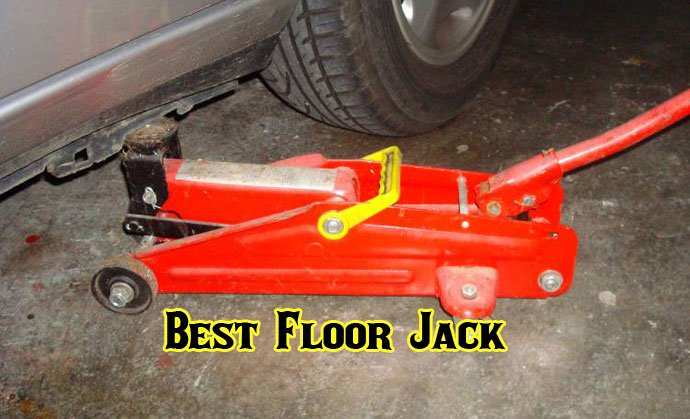 Whether or not most of the modification work of a car require lifting its body to get underneath for full access. Depending on work it requires different heights and holds for a while at that position. A floor jack can do these part but for a long time keeping it needs support though.
Quick Comparison of 5 Best Floor Jack
10 Best Floor Jack for the Money
Want to get a quality floor jack for your new car? Here we have tried and tested some high quality best floor jack for different types of vehicles. Have a look below.
Pro-Lift F-767 Grey Low Profile Floor Jack- 2 Ton Capacity
Our first best floor jack for the money is the Pro-Lift f-767 grey low profile floor jack. This is a regular weight floor jacks that can bear up to 2 tons. You can efficiently use it for your family car small to medium. It's simple, easy to glid, shift and carry. Being and simple floor jack make it easier to slide under low ground clearance vehicles.
This floor jack is slightly heavy, 30 lbs because of its full metal body. It can be lifted 3.5- 14 inches up. Vehicles around 4000 lbs will be perfect for this jack. Its rated for 4k cars. But we will suggest you use it for 3500 lbs vehicles. Otherwise, it might not last very long.
Check: Best Torque Wrench Collection
Pros
Suitable for light works like changing a tire, breaks, jacks, etc.
Usable for small to medium size of the family car.
Easy to use, shift and store.
Reasonably priced product. 
Cons
No portable case included.
The saddle is small. 
Torin Big Red Hydraulic Trolley Floor Jack
For 3 ton floor jack, we have Torin Big Red Hydraulic Trolley Floor Jack in our list. It's even affordable for our first one! The floor jack offers robust extension adapters, extra long neck, 360-degree swivel casters. The lifting range of this floor jack is 5-7/8 to 17-1/4 inches. The Torin Big Red Hydraulic Trolley Floor Jack is perfect in SUVs and trucks for its extension adapters. These adapters come with the set.
The best floor jack for trucks weighs around 49 lbs for the entire package. Yes, it's slightly heavy, especially on the concrete ground. But if you use this adjustable floor jack on a flat surfaced garage floor, it will be a lot easier to handle. Overall, its a tall and robust floor jack that does cost you much.
Pros
Best suitable jack for trucks and SUV's.
Durable, sturdy floor jack with the long and long neck.
360-degree swivel casters for easy mobility.
A very affordable piece of the floor jack. 
Cons
Badly written instruction manual.
You need to pump it a lot to raise it. 
Arcan ALJ3T Aluminum Floor Jack- 3 Ton Capacity
Another 3-ton capacity jack for professional grade use, the Arcan ALJ3T aluminum floor jack is best for low ground vehicle lifting. The jack has ball bearing mounted swivel caster wheels and wide track front wheels that make easier to lift car in different height while moving in a different angle. It has a rubber pad on the saddle which protects the car's frame and components from scratch.
The height range of the floor jack is 3.77-19.3 inches and has dual pump piston for fast lifting. Some other features like piston dust shield, bypass and overload valves and quick lock features are useful for trouble-free working performance every time.
Pros
Ideal for low-clearance ground cars.
Professional grade floor jack for shop use.
Made of aluminum, so half in weight compared to steel.
Fast lift and safe to hold.
Durable product. 
Cons
The handle on the sides is not ideally placed.
Not designed to carry about in the toolbox, truck, and back of the pickup. 
The Pittsburgh Automotive 3 ton heavy duty steel floor jack is a sturdy and robust piece of equipment that you keep for use in the garage or your car's toolbox. It has a double pump system and low profile structure that lift a car quickly in very high. It's heavy close to 90 lbs due to rolls nicely on the concrete ground. The good thing about this jack is it could handle heavy vehicles like trucks, SUV or vans and also other economy and low clearance ground cars.
The maximum height lift for this jack is 19-3/4 inches. This best floor jack for SUV is very affordable and last for a quite a long time.
Pros
Sturdy and a well-built floor jack.
Suitable for low/high clearance ground and heavy vehicles.
The double pump process makes the lifting a lot easier.
Easy and safe for use and holding the car.
Cheap in price. 
Cons
The packing of the jack is not so well.
It's big and bulky. 
Another low profile steel made floor jack, the Liftmaster 3 ton heavy duty ultra-low profile is an efficient tool for lifting any cars. It took 6-8 pumps to get the lifting support and raise a vehicle very securely. It has a dual pump system that works well and pretty quick. Also, the jack has two-piece knurled steel handles for comfortable and secure grip. The handle is also covered with thick foam bumper. That prevents you can form any damage. Besides, the strengthen rubber pad on the saddle gives better protection and friction on the ground while working.
The lowest heigh lifting for the Liftmaster is 7.72 cm, and the highest raise is 49.2 cm. Overall, this low profile floor jack serves well for a long time.
Pros
Heavy duty jack with a long handle.
The handle had secure grip and equipped with foam bumper to avoid scratches.
Low profiles design for low ground cars.
Maximum height lifting 20-inches.
Function excellent for cheap as SUV floor jack. 
Cons
The metal is less durable. 
If you need an extended range of floor jack for your garage to deal with multiple types of the car then here it is, the Alltrade Powerbuilt 620422E. This is a 4000 lbs capacity jack with removable lift saddle and padded lift rails. Its flexible design and construction allow it used to use it for different types of vehicles frames. You can quickly raise trucks, jeeps, ATVs, cars or replace or remove transmissions or differentials.
The floor jack has a locking safety bar that holds the jack in place while raising the car body. It eliminates the trouble of supporting lifted vehicles with jack stands. The raising capacity of the jack is 8-5/8 to 18-5/8 inches. Its wide base gives the stability and reduces sinking problem if you are working on the soft surface.
Pros
Good for heavyweight vehicles.
The lift saddle and lift rail are removable.
Adaptable to multiple types of vehicles frames.
Very stable and durable.
Reasonable price. 
Cons
Bulkey to lift/transport or move around comfortably.
The platform is not that level during goes up.
Poor customer service. 
Here is another high weight capacity floor jack for different types of cars. The Blackhawk B6350 Black/Red Fast Lift Service Jack can light around 7000 lbs or 3.5 tons of vehicles very quickly. This service jack features an exceptional design of fast list technology to lift a weight within a few seconds. The jack features a swivel saddle which allows you to position the jack safely and quickly. Its durable and robust steel construction make sure user safety and save the time.
In addition, the Blackhawk B6250 features a built-in internal safety valve and vent plug to ensures smooth operation. The highest lifting height for the jack is 19.5 inches.
Pros
Right to work with trucks, pickup vans, and other heavy cars.
Takes a few time to raise a car body.
The wheel works well to roll this more massive jack.
The handle is easy to assemble and offers a comfortable and secure grip.
Simple and easy to use. 
Cons
The jack is heavy and uneasy to lift/carry.
The handle does not lock in place. 
Arcan XL20 Black Low Profile Steel Service Jack- 2 Ton Capacity
For extremely low ground clearance car you can try arcane XL20. Its a steel made, massive duty floor jack with maximum weight lifting capacity. It's primed and ready to use just in two mins after opening the box. its low profile user-friendly design allows you to smoothly up and down the jack. Besides, it can lift a car in 3/4 strokes even the heaviest one. The jack can lift a vehicle from 3.5-18.1 inches. For BMW, sports car, van, etc. it could be a good option. Moreover, along with the sold concrete ground its roots well in soft ground with grass.
The jack includes a dual pump, 15.3-inch handle with bumper pad, safety valve and other usual things. Overall an excellent buy for personal usage.
Pros
Low and long, perfect for low ground clearance cars.
Lift a car quickly within a few seconds.
High lifting capacity.
Well built and durable. 
Cons
Slightly stiff on the twist release.
Little bulky due to its steel construction. 
If you want a high capacity floor jack but won't spend so much money on it then the Performance Tool W1640 is an ideal option for you. This is a 5000 lbs or 2-1/ low profile floor jack that manage to work with different types of cars. The lifting range for this tool is 5-15.5 inches. It offers swivel casters, flanged steel frame, and overload protection bypass valve. You can use the jack for your economy cars to light duty trucks.
However, this best floor jack for the car is easy to use, maintain and last for quite a long time without giving many troubles.
Pros
Heavy duty construction.
Metal wheels slide and work well on the solid ground.
Already installed fluid.
Includes a handle for carrying.
Very cheap in price. 
Cons
The pump handle is slightly short.
Wheelbase is narrow so that it may sink in the soft ground. 
Powerzone 380044 3 Ton Aluminum and Steel Garage Jack
Our last best floor jack is for Powerzone 380044. It's a 6000 lbs weight and 4-18-1/4 inches raising capacity jack. It has a quick lifting hydraulic system with rubber padded saddle, rear wheels, and a heavy-duty steel arm. This is aluminum made jack and 10 times lighter than your average steel jacks. Also its easy to shift and work with. For light works, you can use it in your garage. Its ok to use the jack on concrete rather than soft ground.
Pros
Nice looking steady jack for lifting.
Suitable for the low ground clearance wheel.
Made of lightweight aluminum so easy to shift.
Has rubber padded saddle to protects the vehicle
No leakage problems.
Cons
Less durable.
Takes lots of pumps to raise up. 
Types of Floor Jacks
There are many standard types of floor jack is available in the market. But some basic elements determine either the jack is suitable for particular work or not. So learning about them will help you to choose an ideal kind of floor jack for different types of tasks. Let 's see what these are.
Hydraulic mechanism is used in this jack to raise up cars that are why it called hydraulic jack. A rod or liver is included with a jack which needs to pump up and down to send the fluid into the cylinder. It is caused by upward pressure by closing the release valve.
This jack is lightly heavy and can lift high weights unique. So, any significant and heavy cars can be raised to repair with it. Also, hydraulic jacks are commonly used in lifting elevators and floors during floorboard replacement.
Piston jack is also called the bottle jack because of its concentric cylinders which looks like a real bottle. The design of the piston jack does not allow it to compress low heights. So, you might not work with something remarkably lower as a sports car.
The main benefit of this jack is its small footprint. so, when You are working on the uneven ground it's more convenient to use rather than other floor jack jacks. It's much easier to balance in congested or rough places.
The last one is the most common and widespread type of floor jack for every car owners. Because scissor jacks are best for roadside emergencies. That is why this jack could be found most of the car trunk. Its small, light and strong to use small to mid-size of car lifting. This jack is a mechanical grade jack which uses a screw to compress the scissor mechanism to lift your car upward.
The main downside of the stud is it has a low height limit which limits its task in some complicated situations. The jack supports greater weight due to its hydraulic system and a little heavy. Piston jacks ideal for trucks, pickup vans, etc. weighty vehicles.
How to Use a Floor Jack
Using the floor jack is slightly simple slightly tricky even you know everything about it. We tried to explain it so that anyone can use a floor jack for emergency situations.
At first, place the jack under your car. The jack saddle should be placed under the vehicle frame fully intact in assigned raising point.
Check the valve; it should be closed and installed correctly. It allows the jack to hold the pressure and carry the saddle while pumping the liver.
Turn the jack clockwise or as mentioned in level until it stops. If there is no label to point which way to turn, clockwise should work for maximum jacks.
After finishing that part now its time to lifting the saddle of your jack. Gradually lift it which checking if the jack straight away in contact with the jack points.
You can redo the whole thing if the jack is misplaced. Otherwise, continue pumping until the vehicle is at the height as you need.
How to Choose the Best Floor Jack
Many sizes, type, and model of floor jack is available in market at the different price point. Finding a good one is really difficult sometimes. To help you out here we discuss some common factors to look before choosing the best floor jack. Have a look below,
What Type of Vehicle Do You Have?
The type of vehicles is essential because their ground clearance differs a lot. Ground clearance means how low or high the contact point for your floor jack is on the car. Cars with low ground clearance (sports car, race cars, etc.) quite more comfortable to lift with most kind of floor jacks. Hydraulic jacks are best suitable for low ground clearance.
The regular jack cannot fit on extremely low ground clearance cars like street tuners and other performance cars. Usually, the aluminum jack can reach these cars. They have a simple and light structure which easy to use and move around.
For rest of higher ground vehicles could be handled by bottle jack. If you want a floor jack for taking out in emergencies, then scissor jack is a good option. If you are still in confusion choose a hydraulic jack. It will serve maximum situations.
The Weight of Your Vehicles
Buy the standard floor jacks has a capacity of 2-3 tons of weight lifting. This one can quickly raise the economy and small types of vehicles. It's better to buy a jack that exceeds the weight of your car.
For trucks and other heavy cars with big tires need more tonnage higher than 2/3 tons. You should pick a service jack for this job that designed for long chassis and handles more top ground clearance cars with more weight. For example, the 10-to jack can easily light a truck up to 25 inches. Some service jack comes with air assist too. Its get rid of effort that needs to pump and lift a vehicle. The air cylinder does most of the work here.
Lifting Speed & Materials
A standard jack speed is 10 strokes in maximum. For more quicker performance like 3-6 strokes for the maximum rise, you need a dual lifting piston jack. Actually, maximum speed entirely depends on how it's built. So as you go for quality materials and construction, the price will up equally. But it's better to invest in high-quality well-built jack thus cheap jacks has less lifespan.
The conventional materials for floor jack are aluminum or steel. Steel jacks are suitable for garage use in the most case. If you need a light and easy to move around type jack then aluminum American made floor jack type is best.
Quick Tips on Using Floor Jack
Follow these tips and tricks to using your floor jack safely. Like as,
While purchasing a car ask you seller about floor jacks that best for your new car. Even you miss the chance to ask them during the deal you can contact them later for an ideal recommendation.
The main purpose of using a floor jack is lifting it not holding it for a long time. Use other support if its need to hold for a long time.
Go into the car after placing the jack stand for the support. Its designed to support a lighting car though.
If there is no support like wheel chocks or anything you can use a pile of some woods, rocks, or even bricks for help.
Before going underneath slightly shake the car to test its steadiness.
Use a parking brake to jack up your vehicle.
Don't choose a soft ground to park your floor jack. It will bury due to weight or may cause wobbliness.
Final Words
Choosing the right kind of floor jack from thousands of option out there is indeed a difficult task for anyone. However, if you check the things we discuss earlier and use the knowledge to recognize a few opportunities for your car, then it might take a lot easier to finalize a one later. We suggest you consider quality over the name, brand, and the price.
Our top pick for best floor jack is Arcan ALJ3T Aluminum Floor Jack. This one offers quality in both construction and performance. Also, this best floor jack for money lasts for many years without any trouble.