A scroll saw is a versatile power tool, work to bring out most detail and beautiful cutworks form wood, metals, resin, plastic or from other things. Equal to the industrial area, best scroll saw are vastly using in different workshops, wood crafting classes, even home for personal/commercial DIY works.
Many sizes, ranges, and capacity of scroll saws are available in the market. Depending on your work type you will find something that suits your budget and requirements.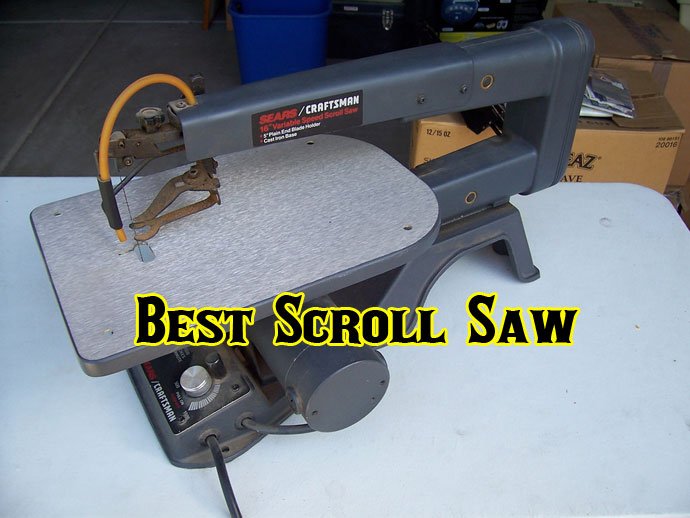 Most of the beginners often struggle with some questions like, what is the best scroll saw brand or what is the best scroll saw to buy? If you are also looking for an ideal type and badly need some ideas or guide for buying a scroll saw, then you have landed just at the right place. You know why? Read on to know.
Comparison of 5 Best Scroll Saws for the Money
10 Best Scroll Saw 2018 Reviews
In the below mention part we prepared 10 best scrolls saw reviews which you can purchase anytime from Amazon or other online markets. These are the first ten that currently very popular and offer full features and facilities that any professional will treasure. So, let's begin.
DEWALT DW788 Scroll Saw
DeWALT is a famous brand for different types of utility and constructing tool. And DEWALT DW788 Scroll Saw is one of the best scrolls saw that you could trust. It works smoothly, silently on different types of project but with proper accuracy. The saw has 1.3 amp motor with a tool-free blade, liftable arm, and bonus a dust blower.
The saw delivers 400 to 1750 spm speed with variable speed controller. So you can adjust the speed according to your work delicacy and bring out the best cutting/curving each time.
This saw has the enormous cast-iron table to provide vest material support for working. Moreover, it bevels left to right 45 degrees. Overall it's a durable and quality tool to work with.
Check: Best Electric Chainsaw Collection
Pros
The tension knob has numbers so you can get the tension the same, each time with a different blade.
The blower has long bendable arm works according to the position you set.
Changing the blade is very fast and easy.
Flexible dust blower makes the work easier more.
Cons
Vibrates sometimes.
The lower guard is ted bent.
Delta Power Equipment Corporation 40-695-Scroll Saw
For more sophisticated working there is nothing that compares Delta Power Equipment Corporation 40-695. It's a complete set as a scroll saw. It comes with a steady stand, a light for closer visibility and a full-time dust blower. For other scroll saw you need to purchase and fit all of these individually. But in here you get all essentials together.
The saw has 1.3 amp motor which provides 400-1750 spm power speed with a ¾ inches stroke. Also, you will get the upfront controls, on/off switch, electric variable speed dial with this tool. The saw consist of an upper arm lock to hold the arm in the up position. It's made more accessible the blade changing including the fretworks. Some other things like multi-tilt capacity stand, oversize cast-iron table, and tilts (0-24 degrees left~right) give a lot of advantage to complete any simple/robust work better.
Also Check: Best Jigsaw Review and Buying Guide
Pros
Offers electronic variable speed.
Has on-tool blade storage area.
Includes light and a stand for better working.
For dust control, it has the dust hose near the work surface.
Variable speed control for a wide array of cutting application. 
Cons
Costly product.
Flimsy power switch.
Dremel MS20-01 Moto-Saw Variable Speed Compact Scroll Saw
If you want a portable handheld standard power scroll saw then Dremel MS20-01 is a best suit the list. This compact saw is perfect for detail cutwork in a variety of materials like wood, plastic, metal, laminates, etc. this precision sawing tool is useful in keeping any place or quickly setup for work. This scroll saw function as a stationary saw, but still, you can remove it from the base and use it portable motorized coping saw.
Some other additional features like clamp base, auto-tensioning quick change, vacuum adapter, etc. are best to mention of this saw. With clump, you can attach the tool to table benches and other suitable surfaces. The saw includes 10 cutting blades which comprise wood, plastic, and metal blade categories.
Pros
Comes with a handy storage bag.
Easy to set up in minimum time.
The auto tensioning quick-change mechanism allows quick and straightforward blade and accessory changes.
Have settings to keep the speed in control.
Easy reachable durable control switches. 
Cons
Mostly suitable for lighter works.
The dust port adapter sometimes makes a loud sound while sucking. 
Shop Fox W1713 16-Inch Variable Speed Scroll Saw 
For complete light to hard most of the tasks, you need something that has all the essential features. The Fox W1713 is something like that. The saw has a considerable reputation for giving trouble-free services for many years. You can work with close attention to detail ruggedly built parts for different kind of projects. This saw control program make sure you complete safe, reliable and most importantly desirable operation each time.
This best scroll saw for beginners has 1.2 amp motor with 1/8 HP power. It offers 550-1670 spm speed which can control also. You get a cast iron table with a saw, a gooseneck work-light, a dust blower with a dusting port (1-1/4-inch) too. You could use the tool to cut any material max 16-inch full and 2-inch thick.
Pros
Suitable for work with all tough or delicate materials.
Changing the blade and other accessories are fast and straightforward.
Makes straight and tight rounded corner without leaving relief cuts.
Powerful motor with variable speed control.
Fairly adequate dust blower. 
Cons
Some of the hold-down knobs are little flimsy.
The spare blade comes with the saw is not so great for long-term usage. 
SKIL 3335-07 Scroll Saw
Want to get a perfect scroll saw for your benchtop workshop? Then you might consider having SKIL 3335-07 Scroll Saw. It's a 16-inch table saw with 1.2 amp motor. It has the aluminum table, gooseneck LED light, dust blower and setting to work with max 16-inch thick workpieces.
It comes with 16X10 inch work table. The table tilts 0-45 degrees for precise work. The saw allows you to work 2 inch thick pieces at 90 degrees. You can feed it any stationary materials like the laminate board, wood, metal, plastic, resin, etc. to cut or curve. The saw takes painless blades according to the instruction, but some people succeed to add pin blades and hade great result with them.
See: Best Angle Grinder
Pros
Includes LED light and dust port for better work efficiency.
Ideal to work with different types of metal.
Set up is just like a piece of cake.
Variable speed controller for define work of operation.
Allows maximum thicker pieces to cut. 
Cons
Slightly vibrates.
The blade changing process is a bit troublesome. 
WEN 3920 16-Inch Scroll Saw
A scroll saw gives you full control over your designs and creativity. That is why it's popular among other saws for DIY projects. Here is another scroll saw that could compliment your creativity, the WEN 3920. This 16-inch saw comes with unique blade holder, cast iron table and accepts both pinned and painless blade to cut anything. It has 16×11 inch table; worm LED work light, 1.5-inch dust port, hold down foot clamp, etc.
The saw has easy to reach all buttons and control switch with faster response. It allows 550-1600 strokes per minute which can be easily adjustable with its speed know. During work, you can bevel the piece up to 45 degrees to the left with max 1.9-inch thickness.
Pros
Pleasant to work with different types of materials.
Excellent sturdy cast iron base reduces vibration while working.
16-inch throat depth in the standard position.
Include a flexible LED light.
Easy to on/off switch and usable with footswitch too. 
Cons
The motor makes noises as getting older.
The dust blower is less convincing. 
ShopSeries RK7315 Scroll Saw
Here is another best scroll saw specially made for wood workings. The ShopSeries RK7315 Scroll Saw is one of the affordable saw that offers speeds, work accuracy, and control. This 16-inch saw equipped with a 1.2 amp motor, with a 0-45 degree die-cast aluminum table bevels. The saw also includes two five inches of carbide blades with a throat. This throat has 16-inch space which can hold max 2-inch of a workpiece at 90 degrees.
If you work with 1-3/16 inch thick wooden piece, then the rotating limit will be 45 degrees. The saw has variable speed settings which run 500-1700 spm. It has a compartment to keep your stuff like blades, wrench, etc. safely. It also has a nice blower to keep all the mess away from the block and keep the surface clean.
Pros
Works on any materials.
Offers high cutting depth (2-2/1 inches).
Option for speed controlling.
Long durable blades.
Easy to set up. 
Cons
Blade changing is little cumbersome.
The foot is little uneven.
Vibrates also. 
Jet 727200K Scroll Saw with Stand
If you like to have a heavy-duty scroll saw with most advanced features and performance, then Jet 727200K Scroll Saw could be a perfect choice. This saw come with a stand that could be position in four different height. Using the leveling feet, you can set the height in following 31-3/4, 28-3/4, 26-3/4, and 24-3/4 inches.
This saw has an upper blade holder clamps and tension blade in one step. It also has a lower blade holder which easy to add on securely or remove safely. For the holding surface or table, the saw has a 12-7/8X23 inch cast iron made board. This thick surface does not only give you a sturdy base for work but also limited right amount of vibration. However, the saw includes a dust blower too.
Pros
Give higher surface to work carefully.
Compact design easy to fit in small space.
Includes a footswitch for fast on/off.
Higher throat capacity.
Slotted table for more straightforward and rapid blade changing. 
Cons
Very expensive scroll saw.
Sometimes the blade gives trouble by staying in the top holder.  
Craftsman Scroll Saw 00921602000P
Here is another professional grade scroll saw that offers excellent service, longevity at an affordable price. The Craftsman Scroll Saw 00921602000P is best for doing any wooden, plastic cutting curving neatly. It's a 16 inches scroll saw with 400-1600 spm and giving you all the personality you need to cut through soft and hardwood. This one is good at dealing with soft material as well.
The saw has a sturdy cast-iron table with a dust blower adapter. This multi-directional dust blower is suitable to attach to your vacuum so you can clean surface very fast and efficiently.
This best scroll saw for beginners has an attached compartment to keep your spare blades and other tools altogether. Overall, it's an easily portable and maintainable tool that gives your desired performance without wasting much time.
Pros
High powerful 1.5 amp motor offers excellent working efficiency.
Gently work with different types of material like soft/hardwoods, plastic, and soft metals.
Suitable to use with pined and planed end blades.
Dust extension port allows connection to shopping vacuums.
Onboard storage for extra store blades. 
Cons
The blade changing is bit trouble.
Vibrates a lot. 
HEGNER 22″ Variable Speed Scroll Saw
Last but surely not least, if you don't have a budget problem, you might consider having HEGNER Scroll Saw. This saw is made in Germany. It has all the features and more that could handle all kind of work with proper delicacy. It's able to manage any project small or large with its unique Quicklock tension release system. This system makes the fretwork and inner cuts very easy.
The saw has a variable speed induction motor that can run between 400 to 1700 RPM. Also, it has dual-tilt slotted table, double quick lock tension system and dust blower adapter. It usually has 100 volt 60 Hz voltage. But you have the option to get higher amperage like 220 volts 50 Hz also if your order it specially.
The adequate performance of this best scroll saw is just excellent. It is good at detail work without rapture the piece. It's an overall a simple but useful tool for any professionals.
Pros
Offers double quick lock tension system.
Variable speed induction motor.
Suitable to work with any materials.
Gives reliable and precise working.
Last for many years. 
Cons
The table seems bit small.
Costly product. 
What is Scroll Saw?
A scroll saw is handy equipment in the area of wood, metal, and plastic design working. Compare than any other saws, scroll saw has tiny blades. So it's constructive for working intricate designs. It's a must-have tool for any workshop of woodworking classes. 
How Scroll Saw Works
After setup the scroll saw all rest is start the work. Here is few process of to explain how to use a scroll saw step by step, have a look down below.
Place workpiece in few inch distance of the saw blade. Hold the piece with your both hands. Most of the saw has a paddle switch to turn on/off the machine, if you have it you can concentrate on work using your both hand.
Turn on the Machine & Adjust the Speed
Now you are ready to turn on the machine. The first rule of thumb is, start with lower settings if its thick wood, for lighter wood, set the saw in the fast environment. The reason behind this instruction is, quicker speed lessens the splitting risk or softwood or leaving and gouge scars. Sometimes it may break an entire piece.
Start Cutting and be Patient
Woodcutting according to design takes time. If your plan has only some straight line and few curves, you may finish it with one blade without stopping. For circular shape and detail design, it will take more time and different blade changing to complete the final look.
Angle Range – Why it's Important
Different scroll saw offers different angle range like 90, 45 degrees, etc. it allows to rotate the piece max this range. When you cut a circle, you need to cut the piece half or ¾ portion first then the last of the portion. The circular cut takes time and patience to complete with perfection. For the first time, you should start with square, rectangular or triangle shapes to figure out the whole thing.
You can make different cutting like making whole, exterior cuts model section out, etc. after cutting don't forget to sand.
How to Choose the Best Scroll Saw
Look into these facts listed below while getting a right type of scroll saw for your work. Such as,
Depending on your work types the throat length could be huge or small. Throat length is a measurement from the rear of the blade to throat back of the saw. The bigger sizes handle the larger workpiece and vice versa. Usually, 16-20 inches throat length is ideal for home use. It covers most of the type of projects. There is an option for small 12" and huge 30" too. The first one is smallest one use in minimalistic works, and the last one is mostly for industrial usage.
The thickness or depth capacity could be 1-3/4 to above 2 ½ inches. That means you can only work with this range of thickness materials. Determine the thickness according to the materials you work most and its depth.
The slowest speed for scroll saw is 400 and highest 1800 spm. For better work and proper performance your need something that is ranging one 400-1800 spm with speed control settings. Ordinarily slow settings ideal for thin, brittle wood and veneers, little thicker and non-ferrous metals medium speed is excellent. But things like leather, cloth, and paper you must have to set the speed higher.
Only two choices are available for saw blades, pinned and painless. The first one is for thicker wood for straight cuts. But it's not good at detail cut works. Painless blades are perfect for fine and precise cut works.
Maximum scroll saw features a parallel arm drive. This type of saw has rear-mounted motor and the parallel arm. Another type is parallel link drive with rod consisting of arms. The parallel arm drive scroll is most popular one, but it has slight noise and vibration problem also. But the parallel link system is way more quiet and stale than the first one.
It's important to look for some useful features on the scroll saw like, paddle control, easy to reach the switch, dust collection, adjustability, etc. all the controlling buttons regulate should be near to your hand where you can reach without moving your sight. Also, some other user-friendly features like inbuilt storage compartment, light, etc. are useful to have.
Another essential thing is adjustability. The tilting table of a saw helps to cut precise of bevel cuts in whichever way you want. The tilting range and degree can differ from model to model. So selecting the right ranging of tilting depends what type of work you perform mostly.
Tips on Using Scroll Saw Safely
Follow these scroll saw tips and techniques to use your scroll saw safely and avoid any unwanted incidents.
Always use ear protectors and dust mask before start to work. Also, wear safety goggles keep your eye protected from splitting woods or metals.
Keep away your finger from the blade; hold the pieces are maintaining enough distance.
When not in use, turn off the saw.
Set the scroll saw to a workbench or tabletop securely.
When you are going to insert the blade make sure the teeth point onward and down o the table.
Always sustain correct blade tension.
Before starting the saw lock the entire handle well and carefully.
Set a good and closer light on the workshop for proper illumination.
Never use a dull or broken blade.
How to Take Care Scroll Saw
You should spend few minutes to maintain the saw right after every use. This few minutes not only increaser its lifespan but also smooth the operation every time. Like,
After completing all the cutting, wipe the workplace with a clean towel. Even you have dust blower which grabs all the mess but still clean the table and other possible flat areas thoroughly.
Use a clean dry brush to clean the corner or hard to reach difficult areas. If any debris stuck in remote corner it will help them out.
Check the motor power connection before turn it one. You should examine all connection accurately one in a month by an expert.
Remove the blades and other detachable things, if the saw is not in use for a while. Disconnect the plug and store them securely or use at least a cover on the saw to keep all the insides secure.
Final Words
Our top editor choice for best scroll saw is Shop Fox W1713 Scroll Saw. It is an almost a trouble-free saw in the budget that any beginners should try. The second one that got closer vote and rating to the Shop Fox is, the Dremel MS20-01 Moto-Saw. This one product has gained many users' positive feedback for its excellent quality. Also, it has all the features that you want for your ideal scroll saw for different projects.
We sincerely hope that you enjoyed this entire detailed lowdown on the pros and cons of best scroll saws. We tried to narrow down all the quality mentions in here so your buying decision could be smoother and precise. So, think once again about your requirement and budget and pick on from these best scroll saws 2018.