The best torque wrench is the tool that you want foremost in your toolbox. In one side is a must-have thing for bikers, car or truck owners/mechanics and another side its need to repair your garden /lawn tools pipe tools, etc. Torque wrench allows you to tighten the faster in an exact manner (force) without breaking the nut or bolt's head.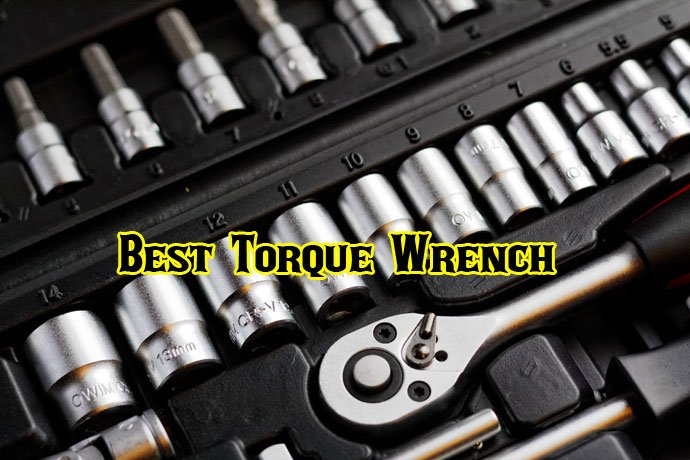 Many sizes, type, and capacity of torque wrench are variable. Mostly they are under budget, even the top-notch one. If you know what quality wrench would be it will be a lot easier to get a good one?
Quick Overview and Comparison of 5 Best Torque Wrenches
10 Best Torque Wrench Reviews of 2018
In this article, we are going to discuss A to Z of the mechanical tool. You will learn the types of a good wrench, how to work with it and finally a buying guide. But before that, let's see some best torque wrench 2018.
Capri Tools 31200 20-150 Inch Pound Industrial Torque Wrench
Our first best torque wrench review is for Capri Tools 31200 20-150 Inch pound torque. It's an industrial-level torque which made in Taiwan. It's designed for regular heavy usage. Officially it approved for more than 10,000 clicks at max torque without re-calibration. You can use it for both clockwise and anti-clockwise just the way you need.
It offers +/-3% accuracy where its previous model provides +/-4% accuracy. It has a newton meter scale on the handle.
Check: Best Jigsaw Reviews
The torque ranch is made of CrMo steel. It has the matt chromo finish which looks and feels pretty nice. The handle is not covered with extra rubber but its textures. It provides a firm hold during work. It weighs only 1.5 lbs. It's a 7.75-inch from end to the center of socket drive and 8.25-inch from end to end.
Pros
Solid built durable metal body.
The torque adjustment is smooth and precise.
Easier to read the settings.
Lightweight and firm grip handle.
Rust-resistant and anti-slip.
Cons
The lock ring is bit loose.
Mushy click sound. 
Precision Instruments PREC3FR250F Silver 1/2″ Drive Split Beam Torque Wrench
There is another versatile torque ranch that best for professional usage. The Precision Instruments PREC3FR250F Silver is offering dependable accuracy at a reasonable price. The torque wrench is made of metal with nickel/chrome finish.
Also, it has the ergonomic grip which gives you more strong but comfortable grip to work for a long time.
The great thing about the tool is has a 'turned down feature.' It convinced to use without turning the wrench head before or after work.
For repetitive applications, the PREC3FR250F torque settings lock on different kind of wrenches.  Its adjusting knob eliminates the spring tension so you can quickly and easily change the wrenches.
Overall its work great on different kind of projects and sound the better "click" that one can hear from a perfect wrench. To store it correctly you will have an excellent case from the buyer.
Pros
Has anti-slip ergonomic grip.
Don't need to turn down after work; it will do that automatically.
Fast and east wrench adjustment.
Comes with a nice storage case.
Mostly accuracy is suitable for all kind of wrenches. 
Cons
Expensive product.
Little heavy. 
EPAuto 1/4-Inch Drive Click Torque Wrench
If you want a durable low priced quality torque ranch, then there is nothing better option like EPAuto 1/4-Inch Drive Click Torque Wrench, 20 ~ 200 in./lb., 2.26 ~ 22.6 N/m. This one is really durable and has all features that your ideal wrench should have. First of all, it has long-lasting chrome vanadium steel alloy ratchet head. This Cr-V is the harden-treated metal composite which has a satin finish and also rusts and scratch resistant.
For the more relaxed reading, the torque retched has dual range scale. The engraved NM scale shows the reading which pre-calibrated to +/- 4%. One best thing about the tool is to sound the audible 'click' sound which tells preset torque value is reached. You don't need to waste your force or energy to feel or hear its much.
Pros
Made of heavy gauge steel alloy.
Fairly accurate reading.
Comes with a nice storage case.
Much noticeable click.
Very affordable. 
Cons
Allow only clockwise direction.
Funky NM scale. 
EPAuto 1/2-inch Drive Click Torque Wrench
For cheap mechanical tools, you don't need to purchase all Chinese products. Other countries also make good stuff at very affordable costs too. Like the EPAuto 1/2-inch Drive Click Torque Wrench. It's a Taiwan made products and 10 times better than the "made in China" products. So you can trust on this stuff. However, this one has the 13.6-203.5 Newton-meter scale and applicable for 10-150 ft/lb blots. The wrench is made of CR-V composite metal. It's a harden-treated chrome vanadium steel alloy which is very strong and rust-proof. The satin finish body gives not only lovely appearances but also increase the durability.
Compare than other torque wrenches it sounds the high audible "click" sound to tell that, your instant torque is reached. However, the accuracy rate of the wrench is around +/- 4-5%. Which is not like other top notch torque wrench but for light works this best torque wrench under 100 will do its job.
Recommended: Best Heat Gun Collection
Pros
Corrosion resistant leek body.
Comes with a good storage box.
Non-slip grip knurled handle.
Good audible sound to tell if the torque to preset.
Cheap in price. 
Cons
The adjustments are little rough.
Struggles with 30 lbs bolts. 
Tacklife 3/8" Torque Wrench
Here is another budget torque with calibrated one by one in +/- 4% accuracy. The Tacklife 3/8" Torque Wrench offers 10-80 lbs ft or 13.6-108 NM adjustment to use upon a different range of bolts. It's a reliable option for your vehicles and equipment of your garden or other tools. The alignment of this equipment is secure. You need to turn the spring loaded collar to set it in desired settings and releaser the lock in place. Now slowly tighten the fastener and control the motion either clockwise or anti-clockwise. You will hear a click sound right after the torque value is reached.
The torque wrench comes with 3/8 inch drive to ¼ inch drive reducer, 3/8 inch drive to ½- inch drive adapter and a 3/8 inch drive socket extension bar.
Pros
Includes three extra drive socket extension bar with the wrench.
Usable on clockwise and anti-clockwise both direction.
Strong and stable ratchet head.
Anti-slip comfortable grip handle.
Comes with a storage case for the set.
Affordable value. 
Cons
The adapters are little flimsy.
Get trouble sometimes while dealing with heavy. 
Industrial Brand CDI Torque 2503MFRPH 1/2-Inch Torque Wrench
You will need high capacity tour wrench for tightening or lose heavy bolts. That is why you need something like Industrial Brand CDI Torque 2503MFRPH. It's a half inch drive adjustable torque with the dual scale, dual direction and a positive lock. The lock has spring loaded pull down lock ring which gives a firmly locked position but also more comfortable to unlock when needed.
Some other features make it more unique, but the best thing is the accuracy. It offers +/- 3% accuracy which fixes for all time.
The CSI 2503MFRPH has a quick release button which has good socket retention. It also has easy socket removal too. So, that you could quickly adjust it according to the bolts or loose/tighten it according to your need. The range of the torque wrench is 30 to 250-inch lbs.
Pros
High torque range.
Adjustments are quick and easy.
Merely readable laser marked single scale.
Offers dual scale calibrated direction.
Lock system with spring loaded pull down lock. 
Cons
Little pricey.
The handle grip is good but it actually covered by plastic.
VENZO Bicycle Bike Torque Wrench Allen Key Tool Socket Set Kit
If you want something light and workable for your bicycle especially then here is VENZO Bicycle Bike Torque Wrench Allen Key Tool Socket Set Kit. This light 8-inch torque wrench is specially made for lighter work. You can use it for any model of bicycle parts or bolts. But it does not mean it offers less than usual torque. It's relatively accurate within 4% after the warm-up time. It's suitable to use multiple size and shape of bolts in different torque.
The torque wrench also comes with a gauge which perfects for your bicycle carbon parts. It's a ¼ inch Torque Fix set with 2/24 Nm ranging. It includes 3-10 mm Allen key for efficient and secure usage. It's a Taiwan made product and quite durable. It sounds an excellent audible sound to indicate the accomplishment of preset torque scale that you set before.
Pros
Lightweight and easy to use.
A wide range of torque settings.
Includes gauge perfect for bicycle carbon parts.
Loud audible 'click' sound let you know when to stop.
Affordable price. 
Cons
Usable in one direction only.
Get trouble with sometimes higher torque. 
Park Tool Ratcheting Torque Wrench
As more as are carbon fiber made frame parts and wheels are favorite torque wrenches become more popular day by day. Our next best torque wrench the Park Tool Ratcheting Torque Wrench is an excellent option for anyone has car, truck, garden or lawn tools in grudge. It's equally famous in workshops too.
This best torque wrench for motorcycles works well and suitable to use one different shape and types of sockets. You can use it to lose or tighten your bars, stem, seat collar, saddle rails without cracking them.
Park Tool Ratcheting Torque Wrench is a 3/8 inch drive which works on both clockwise and anti-clockwise
It's the TW5 or 3-15 nm (7 ½) wrench which comes with all easy adjustments. On the handle, the wrench has a thin rubber coating which suitable for slip-free operation. Overall, it's a long lasting easy maintainable everyday tool for vehicles and other mechanical tools but especially for bikes.
Pros
Nice sturdy body.
Easy to use.
Long lasting product.
Suitable for the different shape of wrenches.
Straightforward adjustments. 
Cons
Little expensive.
The "click" sound is dull. 
TEKTON 24335 1/2-Inch Drive Click Torque
For any type of bike, track and gardening tools, you can depend on TEKTON 24335 1/2-Inch Drive Click Torque Wrench. This dal directional wrench has 10-150 ft-lbs or 13.6- 203.5 nm torque scale. It let you tighten fasteners in precise specifications confidently. Your parts are more secure with this wrench.
The wrench offers +/- 4% calibration which fine with any ½ inches wrench. It's simple and reliable for any delicate tools. When you set the torque and start to tighten the bolt it makes right hearable click to indicate it has finished the work; you can feel the click. Moreover, its high –contrast Newton meter scale is straightforward to read even in low light.
The wrench is constructed with the all-steel body. On the handles, it has blackish engraved textures with ensuring of no-slip operation. It does not have any coverage of rubber or plastic. The handle grip is firm but not that comfortable that you got from thick rubber grip handle.
Pros
Audible sound when exactly it reaches the torque.
Easily readable scale.
Rust-free durable steel construction.
Two directional ratchet head.
Definitely worth the price. 
Cons
The adjusting mechanism is a bit rough for first-timers.
Looks bit cheap but it's not. 
ACDelco ARM601-4 1/2″ Digital Torque Wrench (4 to 99 ft-lbs.)
Last but defiantly not least. Our final best torque wrench review is for ACDelco ARM601-4 1/2″ Digital Torque Wrench. It's 4- to 99 nm wrench digital torque which has LCD, LED flash, buzzer, adjustment setting option and many more usefully. Until now we have been talking about all standard wrenches. But this one is far different from the traditional one. This 1.40 lbs wrench has all heavy and convenient features that you want for your workshop or as the individual vehicle owner.
This best digital torque wrench's LCD can show you all the torque in different measurement unit. You can choose n-m, ft-lb or kg-cm to get the right job completed. It has added quick release reversible ratchet head which makes the work very fast. The wrench has nice and thick red color anti-slip grip for the firm but soft grip. You can work with it as long as you like.
This most accurate torque wrench runs on 3 AAA batteries. The reading and buzzer are quite ok with this tool but you may find a hassle to set it on lower torque thus its lower setting does not often match with the description.
Pros
Nice rubber gripped digital torque wrench.
Includes LED flashing and buzzer alarm to let you know then the torque is reached.
Multiple setting functions like, peak, trace, measurement, etc.
Different units of measurements, n-m, kg-cm, ft-lb.
More accuracy- +/-2% to 3% 
Cons
The lower alarm setting is not what it advertises. The minimum setting is for 10-13 nm. 
Types of Torque Wrench
You will see many shape and size of torque wrenches. Over the time through many changes now it becomes all those advanced level of design and features that we use in real life. Here is 6 basic type of torque wrenches are explained below.
Electronic Torque Wrench
The most advanced level of torque wrench is electric wrench thus it offers digital reading and display. The torsion rod attaches with a strain gauge which sends a signal to the transducer and calculates the torque. It also comes with a memory cheap to record the used read which can be accessed by the computer and save for spreadsheets, etc.
Click Wrench
This is most fundamental wrench for torque which can prevent stretching or overreaching. It has a socket and clutch which work on basis of preset torque when the preset torque is reached it makes the "click" sound and shut-off.
Beam Wrench
The mechanism of the beam wrench is kind of similar with weighing scales. Its wrench head and the handle are parted by an arm lever. The lever arm bends when it gets the pressure. The indicator and the arm remain parallel until a torque applied. When a force applied it moves and gives a reading.
Plumber's Wrench (No-Hub)
The name describes what is the use could be this one. It's designed for use on soil pipes with its coupling only. It has T-shaped handle is same as other ratchet wrench but it's pre-calibrated to slip when a significant amount of torque has been reached
Hydraulic Torque Wrench
A hydraulic torque wrench can apply more pressure than usual wrenches to the nut/bolt head. The pre-calibrated torque assists in tightening them and helps to lubricated well. It exerts a lot of power and pressure, especially on automobiles.
Deflecting Beam Wrench
Deflecting Beam Wrench work on the idea of torque applied to the deflective beam. It shoes more accuracy and safety when working with more power and pressure. It also provides that audio effect including a visual reading.
How to Choose the Best Torque Wrench
To make a wise decision about the torque wrench you should consider some basic facts like brands features and some other things. Check this quick discussion given below how to choose the best-quality torque wrench.
Quality– quality, capacity, and size depending on which kind of bolts you are going to treat with the wrench. So assure it from your automobile buyer, expert or form the manual of your bike/car/machine. It will help you to grape the correct type and quality of torque wrench.
Product Features– the main feature that always important is accuracy. Then, of course, the "click" sound which says mission an accomplished! These are standard features for all kind of wrenches but if you are getting a digital one check the digital display. It needs to be bright to see in low or under sunlight.
Ease of Use– Your wrench should have comfortable grip comfortable handle. It could be covered of anything that feels good. Also, both directional wrenches are another good option to have.
Durability– Metal and its finish both are important of wrenches' long life. Look for rust-resistant solid build metal either stainless steel or any composite material.
Money– Mostly dial or manual torque wrenches are fairly cheap. You can find anything in the budget. But the digital torque may cost you 100-200 dollars. Depending on the quality you should choose some mid-range priced product if it's your first time shop.
How to use Torque Wrench
Here is some easy procedure to follow while using a good torque wrench. Have a look below.
Take your torque wrench and grab the bolt head using a socket or wrench. Tight the head until its snug. Now follow up with your torque wrench.
Grab the plastic or rubber handle in the way so it can be centered on the pivot. Now place the torque head on the nut head in an ease position so you can read the beam straightly.
Start to tighten the nut clockwise until it reached the preset torque. You would follow the procedure with other nuts using any type of torque wrench.
Final Words
However, our top voted best wrench is EPAuto 1/4-Inch Drive Click Torque Wrench. This is the simple but effective wrench usable in both directions. It's affordable too. Anyone either professional mechanic or non-professional bikers can use this one. Here is another honorable mention that is different from the entire 'shut-off' mechanism manual wretches, the ACDelco ARM601-4 1/2″ Digital Torque Wrench. This digital wrench is very efficient for certain torque force. And bonus you have an alarm and LCD to show and store the readings.
In the end, you need to be specific about your requirements. If you are a simple bike owner and use this kind of tool occasionally, then a mediocre featured torque wrench is good to go. For heavy and professional usage you should go for a high quality best torque wrench.