Knives are not just a weapon but also have several uses. So manufactures different product type of knives like hunting knives, cutting, cookware knives, military weapons and much more. But there are some extremely dangerous and deadliest Knives in the world.  However, we selected top ten Deadly Knives, and each of them is a deadliest Knife. So have a look.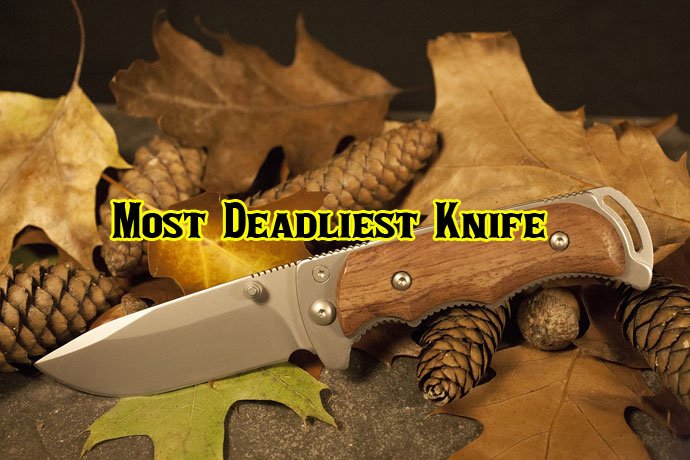 Top 10 World's Deadliest Knife for Sale
SOG Seal Knife 2000
Check on Amazon
Like other SOG Seal Knife, this seal 2000 has made up of the serrated blade which is coated with hardcased black TiNi. This power coated gives rust resistance and increase durability. SOG Seal Knife specially designs for NAVY Seals troops. However, NAVY Seals is the title of an elite unit of the USA military force.  This knife is extremely lightweight, only 10.30 oz in weight. It has the length of 31 cm. SOG 2000 comes with some awesome feature like glass-reinforced nylon handle, secure gripping of raised diamond, ridges in the body which makes it a valuable weapon.
Check: Best Shoulder Holster for Concealed Carry
LHR Combat Knife
The LHR combat knife is considered as one of the deadliest knives in the world. William W. Harsey Jr. and Chris Reeve are two guys who had designed this combat knife. It had designed as a weapon for soldiers in close quarter combat. This award-winning knife is made for the military forces. Its length is 12.5 inches, and the blade length is 6.86 inches. It is fully equipped with the TacHide handle and special quick-release sheath. The main purpose of this knife inventor was presenting a great combat knife at a reasonable price of most soldiers' affordability.
Gerber Mark II
This list of the most dangerous knife in the world review will be incomplete without mentioning outstanding Gerber Mark II. This army knife was vastly used in 1967 to 2000. It was restricted in 2002 and 2008 with just a limited edition of 1500 knives. Though it was designed for army use, is a handy weapon for self-defense. This highly demands designed by a retired army captain named Bud Holzman. The length is 12 inches, and the blade is 6.75 inch.
See: Top 10 Scooters for Adult
Karambit
The very first thing you notice to see this knife seems like the nail of an animal. This curved knife comes from the Southeast Asian. Its main origin is Indonesia. It's a pattern a tiger's claw. Karambit deadliest knife is a bit complicated. So if it is not recommended for those who are not fully trained. Though it's a deadly knife, you can use it for self-defense. The best feature is equally sharp. The most distinct feature of this knife is the attractive finger loop.
M-9 Bayonet
In 1984, a guy named Charles A. "Mickey" Finn designed this M-9 Bayonet. With the black coated blade, green handle and sheath its looks gorgeous. But it is the most deadly knife. The best thing is it's a multi-purpose weapon cum knife. M-9 Bayonet is manufacture in the united state. The knife's length is 12.125 inches with a black oxide finish.  It comes with some great specification like LBE belt attachment clips, hard sheath, strapped loops, plastic carry and Pivot Pin. It is widely used as a wire cutter.
Fairbairn Sykes Fighting
If you are a collector, this Fairbairn Sykes Fighting is the ultimate choice for you. It had designed two guys named Eric Anthony Sykes and William Ewart Fairbairn in 1941. During World War II, this knife was frequently used by the robber's sea and British troops. Though it seems like an ordinary knife, you can't imagine how sharp the blade is. However, now it used in close combat or a surprise attack. The overall length of the blade is 19.05 cm with two sharp eyes.
Eickhorn KM 4000
Very few knives can able to achieve the standard of this German Eickhorn KM 4000. Germans have made it for their military purpose. We all know the quality of German weapons. It comes with the sharp blade of 3.6mm thick, and the length is 175mm. The weight of this knife is 230g and overall weight with sheath is 440g. This traditional knife is very popular among German people. It comes with wire stripper, bottle opener, and universal saw. The sheath can rotate and adjustable a blade sharpener, wire cutter and a lanyard.
Keris
Keris is the most terrible and the most dangerous knife in the world. It is mainly an asymmetrical dagger which is mostly attached to the culture of Indonesia. This is very popular in Philippines, Thailand Malaysia, Singapore, and Brunei. This legendary knife is also known as Kalis. Thus, it's so attractive and elegant for its wavy blade. The people of Indonesia believe that it got a supernatural power and spirit.
Jagdkommando
Check on Amazon
During the World War I, an army of Austrian first uses this name Jagdkommando that means human hunting. The primary purpose was to fight against the uncertain terrorist attacks. This awesome looking knife has three sharp sides. As a result, it can cause serious, deadly damage and release dangerous bleeding. So marines, samurais, seals are trained to twist and stab the knife. However, the production had restricted to its deadliest features.  It is illegal in most of the US states. The blade of the knife is of sheath aluminum and stainless steel.
Fixation Bowie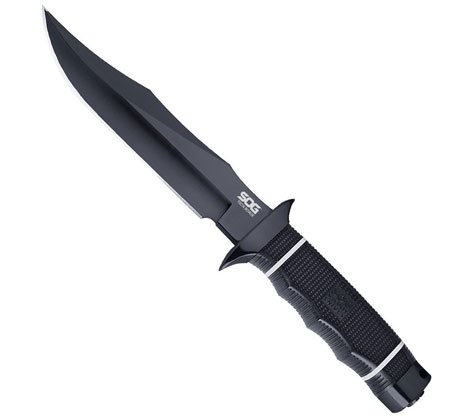 Check On Amazon
Another one from reputed SOG is this Fixation Bowie. SOG is an American company, produced a great series of knife and dagger. The main important thing is it's extremely easy to use. At the same time, it is designed as the length of 17.78 cm, a knife groove, thumb notched, crossguard cutouts, spanner nuts and checkered handles. So the grip is so comfortable.  The right proportion and balance make it far better from the rest of the other knife in the market.
Final Verdict
Hopefully, you have already a clear concept of the deadliest knife around the world. So To wrap this up, we could say each of the knives on our list is the most dangerous knife in the world. However, some are so deadly that different state and country restricted it. Thus, we hope you enjoyed our article.