Love to drink with old pals? It will be much to try the games with a drink. Everyone has to face that night where you and your friend have nothing to do, but both are drinking and want something tipsy. Well, then you have come to the right place. In these drinking games for two articles, we list out ten most exciting games that will blow your mind. So have a look.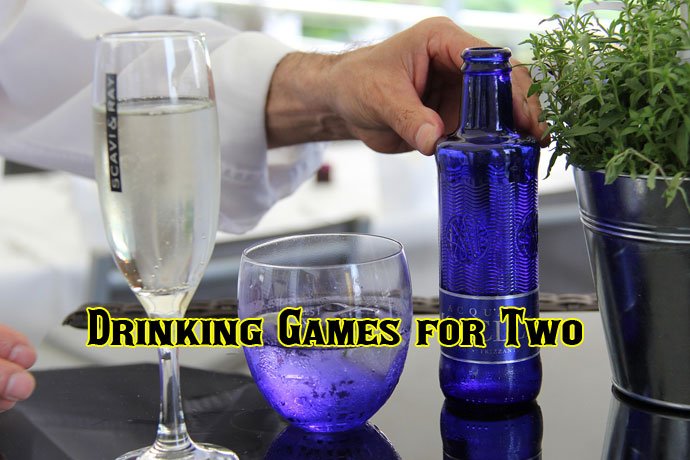 Top 10 Interesting Drinking Games for Two
A true American can't live without the drink. Here are some awesome drinking games you can try with your buddy. Meanwhile, you can find several online drinking games for 2 as well. So let's start.
Flip, Sip, or Post
Perfect a silly time to make it enjoyable.
What you'll you need?
A coin
Shots of the favorite alcohol
An opponent
It's a pretty simple game. Firstly, decide who is going to flip first. When you flip the coin, your other opponent should guess heads or tail, what side, it has landed. Thus, if he or she is correct, it will be his or her turn. If he or she is incorrect, you can flip the coin. But if he or she can guess the right answers this second time, he or she has to answer the question you asked. He or she will get another chance for the third time. If he misses it for the third time, choose a social media platform and loser have to post something funny what you choose.
Also Check: Most Famous Ballets Performance
Flip Cup
Perfect for fun time between two people. Though we put this game on two people's games list, you can play it in larger groups.
What you'll you need?
Beer
Bunch of cups
A table
The procedure is to start to chug a cup of beer at the same time as fast as they can. Then, when you are finished, place it upside down on the corner or edge of the table along with the rim hanging a bit over the side or edge.  After that, flick that rim to get the cup and flip its right side up before giving it to another person. However, it's one of the widely popular beer drinking games for all ages.
Quarters
Quarters is the perfect drinking games for couples who want to impress the partner by his or her skills.
What you'll you need?
One player may try to bounce the quarter off the table into a shot glass. But if the shooter can make it, then the other player has to drink. Meanwhile, the shooter makes another turn. In this time if the shooter missed it, then it goes to other player's turn.
Truth or Dare or Drink
This is the most fun drinking games to know someone better.
What you'll you need?
Alcohol or other drinks
Plenty of questions to ask.
There are several ways to play this interesting getting-to-know-you game. But we will discuss only by truth part. First, take turns by asking personal questions. If your opponent doesn't want to answer, he or she must drink.
5."Never Have I Ever . . ." 
It's another perfect ice-breaking two person drinking games who want to understand each other well. Thus, it's also great for large party and with a group of people.
What you'll you need?
Alcohol, whatever you like
A few stories to confess
Anyone in the group can start the game by saying something that he or she hasn't done before. For example, "Never have I ever kissed a girl." It's more like a confession. Then if another person has done that, then the opponent has to sip the drink. After that just switch role, pretty simple, isn't it?
Battle Shots
It's a super fun drinking game for 2, or you can try it with more people.
What you'll you need?
A pencil
Paper
Six shot
A battleship board.
You can make the board easily or buy the official one, but the homemade board is also ok. To make it at home, draw a 7×7 grid on a piece of paper first. Now label the column according to the alphabet and put the row according to the numeral. Then write a letter-number designation like A1, B2. It's pretty simple, right?
Movie Drinking Games
Perfect for the lazy pals who love the movie as well as drinking.
What you'll you need?
A movie or TV show
Drinks
This one is an amazing drinking game for two without cards. There are so many different TV show and movies by which you can play this game. You can try the Halloweentown drinking game, or the Elf drinking game or epic office drinking game.
Higher/Lower
It's a game for the beginners who get to know each other.
What you'll you need?
Drinks you like most
A deck of cards
This game is the simplest games on our list. One has to turn over the card on the top of the deck. And the opponent will guess whether the card another will in turn will be higher or lower. Then turn over the card. If the dealer or the first player is right, then the dealer has to drink. But if the second player or opponent is wrong, then it's his or her turn to drink.
Power Hour
Perfect for that two friend who is feeling competitive. Better to try this at morning.
What you'll you need?
An hour time
Lots of shots
The main goal or aim is to drink 60 shot in 60 minutes. However, it will be one shot of alcohol per minute. So we recommend this game in the morning. At the end who can make it will be the winner.
Caps
Perfect for hanging out with old buddies.
What you'll you need?
Bottle caps
Cups of beer
Face each other and target to throw the bottle cap in the cups. You can also try this funny game with either two or four people. The basic rule is to sit facing the opponent at the end of the room.
Final Thought
Hopefully, you liked these interesting drinking games for two. So grab your best pal with the shot and have fun. But of course, drink responsibly. Thanks for being with us.