Once there was a misconception that, jigsaws are band saw of poor woodworkers. Thus the time has changed, and we understand how useful a jigsaw can be. It can do all curve cutting tasks even some jobs than the large band saw can't. Jigsaws could be both corded and cordless. They are best at pocket cuts, inside circular cutout and all types of trimming inside built-in furniture and cabinets.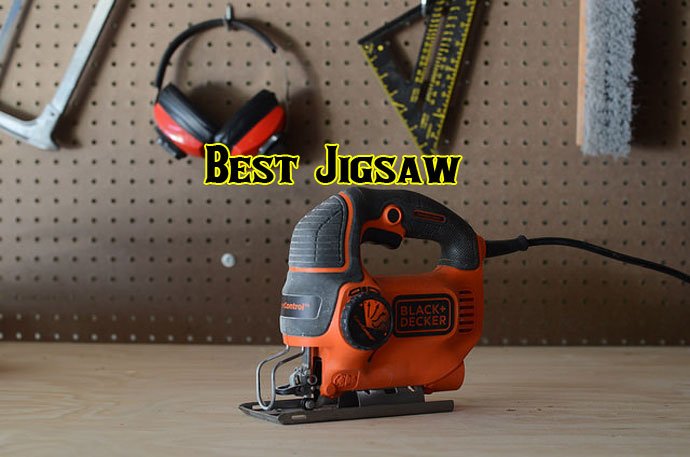 Much top power tool manufactures huge ranges of different power and size of the jigsaw. Especially, the Makita, Bosch, DeWALT, Festool, Metabo, Hitachi, and Milwaukee brands. There are some other brands, or no-brand products are available too. You can either go for brands that offer the number of features and promise to keep up with a long-term period. Or either choose the non-branded one depending upon its characteristics and facility as they described. But to be fair, finding the best jigsaw for the money and quality takes a lot of research and experience to work with this tool.
Comparison of 5 Best Jigsaw for the Money
Best Jigsaw Reviews for 2018
To makes things easier we tried and tested some different types of corded and cordless jigsaw recently. Then we finalized these 10 best jigsaws 2018 for you, so you get the idea of these cutting tools before making a decision. So, read on.
BLACK+DECKER BDEJS600C 5.0-Amp Jig Saw
Our first jigsaw review is for BLACK+DECKER BDEJS600C. It's a 120 volts corded jigsaw which features curve control technology. You can adjust the orbit of the saw in four customizable settings. It let you choose the different speed and power for normal to hard all kind of jobs.
Its 5 amp motor generates more than 3000 spm of cutting power. The Black+decker jigsaw can make bevel cuts more than 45 degrees. It also comes with features for the stable cutting platform. It also is known as shoe' the adjustable shoes give a proper base to cutwork more precisely.
In addition, this best woodworking jigsaw has an advanced level of Wire Guard which provide a visible division of sigh for detailed and accurate cuttings. The blades of the saw are interchanged. You can use T and U shape of blades for this machine.
Check: Best Heat Gun Reviews
Pros
Variable speed option for finding suitable power for every job.
The jigsaw is to use on different board or wood ply.
The handle is suitable for comfortable but sturdy grip.
The blades are easy to assemble.
The large dial adjustment for the blade. 
Cons
No visible option or indicator to confirm the blade locks securely.
DEWALT DCS331B 20-Volt MAX Li-Ion Jig Saw
If you don't want a hassle of cord or wiring then DEWALT DCS331B 20-Volt MAX Li-Ion Jig Saw is a perfect match for you.  It offers all-metal lever-action keyless blade change, four different angles of versatility for simple bevel cuts and many more. It also has 4- position orbital action system. This features gives you total control of speed and cut quality so you can work according to your plan.
Cutting woods make real mess creating wood power. That's why it has a built-in dust blower. This adjustable blower keeps cut line clear of chips and always provides a spotless base for work.
This best professional jigsaw has an option for control the speeds 0-3000 spm.  That is why DEWALT DCS331B is ideal for a multitude of materials and applications.
Pros
Cordless electric jigsaw maneuver to use.
Smooth base and blade actions.
Four position orbital actions.
Includes dust blower for neat and clean working.
Anti-grip comfortable grip for ease is working. 
Cons
Little bulky.
The charger and battery do not include the item. 
Bosch JS260 120-Volt Top-Handle Jigsaw
Here is another very affordable jigsaw for everyday usage. The New Bosch JS260 features the most powerful motor and lots of features for high performance. This handheld jigsaw has 6.0 amp motor with variable speed trigger, comfortable ergonomic handle, and a dust blower. Like the other portable jigsaw, the dust blower is easily adjustable. Infect the motor speed; shoes, etc. are flexible as well.
The jigsaw comes with an anti-splinter insert, blade, no-mar overshoe, bevel wrench and bonus a carrying bag. It's high powered low budget jigsaw which overall great on the basis of price. If you overlook the vibration and little trouble with thick wood do precise cuts, it's a keeper for anyone.
Pros
The high and mighty motor will speed control option.
The adjustable shoe is stable for a nice cut.
Don't require a tool to change the blades.
Long power cord.
Includes, dust blower, steel footplate, variable speed, etc. 
Cons
Annoying vibration.
Sometimes have trouble to cutting (precise) with thicker boards. 
Milwaukee 6266-22 Top Handle Orbital Jig Saw
Tools like Jigsaw are not short time investment. No matter how much you spend, it has to be compelling and also durable. So, those who want something both reliable and power they can consider having Milwaukee 6266-22. It's a 6.2 amp jigsaw with dial speed control, 4- orbital adjustment control, T-sank blades, quick-look blades and other useful features.
This versatile tool gives you clean and accurate cuts with any type of metal, thick or thin. It's perfect to cut for straight, beveled, curved and internal cutouts. It runs like hot butter knife on metal, wood, and plastics.
However, the tool offers 500 to 3000 spm speed control with the twist of a dial. Its shoe angle is 45 degrees in and has four orbital settings.
Pros
Powerful and durable tool.
Comes with five blades and a case.
Quick and accessible at blade changing.
7- Dial speed setting to use.
Able to cut straight. 
Cons
Little weighty.
The anti-splinter device is a bit hazardous to put in. 
Bosch 120-Volt 7.0-Amp Variable Speed Top-Handle Jigsaw JS470E
Here is another best jigsaw from Bosch. Its 120-volt handhelds Jigsaw with lots more useful features. Compare the first one this JS470E gives more power and precision work within minimum time. Its industrial design and cast aluminum footplate work on most stringent job site conditions. You can work with it in full places with different kinds of materials like wood, plastics, and metal.
The no-load SMP of the jigsaw is from 500 to 3100. It can cut wood thickness up to 5-7/8 inches, aluminum 7/8 and mild steel 3/8. Its maximum bevel cut angle is 45 degrees. Its internal precision control and its plug-in system make it more accurate and create less vibration. For the right blade strokes, this best rated jigsaw has 4-orbital action settings.
Pros
Features Bosch's famous tool-less blade changing system.
Four orbital actions.
Variable speed dials settings.
Stable and sturdy die-cast foot.
Low vibration is working. 
Cons
Heavy jigsaw.
The blade changing process is a hassle! 
PORTER-CABLE PCE345 6-Amp Orbital Jig Saw
Those who want to own a powerful portable jigsaw in reasonable price should look into PORTER-CABLE PCE345. It's a 6 amp jigsaw with 7-variable speed dial and 4-orbital settings. You can adjust the speed form 0 to 3200 rpm for optimal speed settings. Its robust motor delivers ultimate power to complete different tasks with different metals. This 6 pounds tool is very well structured and healthy from inside and out.
The portable saw also has a lock-on button. It gives you more natural control while cutting and helps to reduce user fatigue. It also has D-shaped over mold handle and a broad front. Both provide more power and comfort during use. The PCE345 jigsaw takes T shank blade. The blade is replaceable in minimum time and hassles.
Pros
The blades are very easy to swap in or out.
7-speed setting options.
Lock-on button for prolongs use.
Four orbital settings for the verity of materials.
Reasonable price. 
Cons
The blade is not square to the base.
No guard for sawdust.
Heavyweight. 
DEWALT DW331K 6.5 Amp Top-Handle Jig-Saw
Here is another midrange jigsaw with high power and all useful features. The DEWALT DW3315 top handle jigsaw is done for regular massive cutting works. It has one 6.5 amp motor with 500-3100 stroke per minute speed. This tool is useful for work with most demanding materials and different types of cut actions.
Just like the other best jigsaw, it offers four orbital actions too. It will let you do more quick and aggressive cuts which ideal to do a variety of applications. This best jigsaw 2018 features keyless all-metal show bevel along with 0°, 15°, 30°, and 45° detents. Moreover, it's all metal lever action blade clamps straightforward adjustment and quick blade changes. It holds T sank blades for optimal power and best professional results.
Pros
Includes a beautiful box for storage too.
The powerful motor is apt for most of work and metal.
Anti-slip grip handle.
Minimal vibration.
Easy to change the blades.
Includes dust blower for precise work. 
Cons
Little heavyweight.
The shoe lock is not so stable. 
Makita 4329K 3.9 Amp Variable-Speed Top-Handle Jig Saw
If you want a light handheld jigsaw at a low price, then Matika 4329K is right to consider. First of all, it's not that like other massive, powerful jigsaw. It's a 3.9 amp jigsaw with three orbital settings. It's especially workable at straight cutting for use in a variety of materials.  Also, its die-cast aluminum base allows the user up to 45-degrees either right or left.
The variable speed let you control 500-3100 spm speed for completing different type of tasks. It's the jigsaw has the most convenient D-shape handle. Its rubberized grip is ideal for holding and working with it for a long time. It has only 8-7/8 inches long body structures which weigh on 4.2 pounds. If you want a light jigsaw at home for making furniture specializing residential construction work then this thing you want.
Pros
Large trigger switch for smooth operation.
Lock-on button for continuous operation.
Ergonomic rubberized grip for control and comfort.
Not so heavy that is why easy to operate.
Cheap pried jigsaw. 
Cons
The blade needs a tool for replacing.
It vibrates when the speed is high. 
SKIL 4495-02 6.0 Amp Orbital Action Laser Jigsaw
Finding all advance features is one product at a reasonable price is very hard. But break this myth. It's a 6 amp handheld jigsaw with built-in laser, stable foot base, four orbital settings and variable speed dial. It allows a user to take full control to cut in a different method and different metals fast and smoothly. Its unique design gives you to more comfort and control when starting to cut.
The jigsaw is suitable to use with both types of blades- T-shank and U-shank. So, you have full freedom to use it with these two and work with more perfection. Its D-shape rugged handle is suitable for holding and working with.
Pros
Both T and U shank blades are attachable.
Included leaser for a straight line cut.
Custom molded tool rest design.
Powerful motor.
Low price saw. 
Cons
Tend to drift a little.
Vibrates on your hand during work.
No dust blower added. 
Festool 561593 Carvex PS 420 EBQ Jigsaw
Last but not least, our final best jigsaw review is for Festool 561593 Carvex PS 420 EBQ. This one is the perfect option for effortless and accurate cuts. Its high-performance motor and MMC electronic give the power to work on any light to massive projects. The jigsaw has features like 3 point blade guidance, zero clearance splinter guard, Carvex, LED light, dust collection option, etc.
Its variable speed blade works 3800 strokes per minutes. Its cutting depth in wood is 4-3/4 inches or 120 mm. On steel its 3/8 or 10 mm and NF metals ¾ or 20 mm. Also, its tool-free base and base insert platform allow you to work in different ways and on different metal. You can change the general base to butterfly-style angle base to circle cutting base in no time.
Pros
LED light for high blade visibility.
Splinter-free action.
The carbide jaws reduce the wander and drift of the blade
Easily interchangeable blades.
Comes with a hard storage box. 
Cons
Very expensive.
Little heavy. 
Best Jigsaw Buying Guide
Look into these features to know better about jigsaws. They will help a lot to choose the best jigsaw buying guide.
Corded vs. Cordless
The corded jigsaws are light easy to work with because they don't have to carry an extra battery to work. You get full power and to complete your work without any interruption. The main disadvantage of this jigsaw is the cord. Often the length of the cord limits your work area or come to bother while at work.
On the other hand, cordless jigsaws are incredibly portable. If you have the battery charged full, you can use it anywhere or make any length while cutting. But the battery causes the tool weighty, so you feel tiresome for the weight after a while. Also, it needs to charge time to time which is kind of annoying.
However, you can 18, 24, or 36V battery pack for your best cordless jigsaw for maximum running time. Always try to start with work with the fully-loaded battery.
Power
Corded jigsaws come between 3-8 smp. There is action also, however; motor more than 5-amp is offered optimal power. Choose the power that suits your working type.
Orbital Action
The orbital action of the jigsaw is its back and forth motion including the up and down motion. It helps to cut metal more first and aggressively. So check the product feature of the product mentioning four orbital actions.
Leaser or LED
For straight line cuts laser light is a great option. It may increase the cost of a saw. However, LED light is another alternative option in here. It shows the direction of your bled in low light or the shadow.
Handle
A knob style auxiliary handle will be better if you want the jigsaw, especially for scrolling cuts. Also, prior the jigsaw with anti-slip grip option. For better comfort choose the barrel grip or D styled handle.
Blades
For details works 360-cutting blades are perfect.
Also, quick changing blades are a significant advantage for fast work. T-shank blades are changeable quick enough without any tool. It works on U-shank jigsaw as well.
Anti-Vibration
Jigsaws tend to create vibration while working; it's not only annoying but also an obstacle to do your work correctly. You want an anti-vibration feature to work peacefully and not getting interrupted.
Dust Collector and Dust Blower
Many jigsaws have dust collector port or dust blower which clear saw dust. It increases visibility and let you work accurately.
How to Take Care a Jigsaw
For the proper and efficient performance, you have to take good care of your jigsaw. Here are some suggestions on how to take care of your jigsaw. Have a look below,
Oiling or lubricating regularly is the primary work to keep the blades running. Drop just a drop of oil in the blade roller guide often to avoid jamming during operation.
The ventilation slots of your jigsaw often clog by produces dust and debris during cutting. Keep it clean after very work to prevent overheating.
If the jigsaw gets dirty from oil or grease use a dump towel soak it in mild soapy water and wipe the exterior. Then wipe it again with the clean damp cloth to make it entirely stain free. Don't forget to unplug the machine and let it cool before starting the cleaning process.
Clean the blade guide also using a clean and dry brush (old toothbrush even usable) to free-form any grim-build up.
Select a place like a drawer or a cabinet dry and enough room for the jigsaw. Some advance model of the jigsaw has come with a protective case. Use the provided case to keep your saw when you are not using it.
Changing the Carbon Brush
Most of the jigsaw includes two carbon brushes which transmit power towards the motor. These brushes get old over time and need to replace. The operating manual of your jigsaw should mention how to replace them either hand of using any tool. Follow the guide during work with these carbon brushes.
If you have a cordless battery powered jigsaw keeps an eye on the battery and its charge level. Over the time the battery tends to take a longer time to charge and drain quicker than before. So check the battery, if it has enough power to complete the task or not.
Tips on Using Jigsaw
Check the condition of your jigsaw's power cord. Avoid power cord nicked or wore, not even for once. It's unsafe for work.
Don't drop your jigsaw on the floor or keep it harshly on the table. It might affect the alignment of the shoes of the jigsaw.
Use a combination square to check your blade is vertical to the shoe. It will help you to see the actual condition of the blade with it work straight or not.
If you need to change the blade middle of work, make sure to let it chill before doing that. A working blade is always hot, and you will burn yourself.
Clean your jigsaw and maintain it regularly in order to keep it working for an extended period.
Final Word
So in the end, we take a vote and have a winner as the champion jigsaw under budget. And it's the BLACK+DECKER BDEJS600C 5.0-Amp Jig Saw. The saw has got the extreme powerful motor that lasts for a long time. Also, it has the flexibility to work on different metal for different cutting tasks.
All the other reviews that we shared earlier are also useful for different types of projects. However, before making the purchase, try to compare your preferred one with similar capacity of other products.
The customer's point of view, product rating, etc. are an efficient way along with studying the product descriptions and others. It will help you a lot to make a right decision of having the best jigsaw under your requirement and budgets.